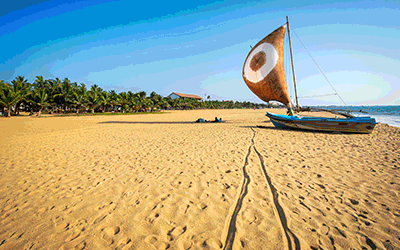 C$2755
25 Aug 19
05 Sep 19
31 Jul 19
Highlights: Negombo - Wilpattu National Park - Anuradhapura - Jaffna - Trincomalee - Dambulla - Habarana - Sigiriya - Kandy - Colombo
Itinerary:
Day 1: Negombo
Ayu-bowan! Welcome to Sri Lanka. Your journey starts from the coastal town of Negombo, a short drive from the international airport. You can arrive at any time on Day 1 as there are no activities planned until the important welcome meeting at 5:30 PM, when insurance details and next of kin information are collected. Those arriving early can get into the spirit of seaside Sri Lanka by observing the local fishing craft and perhaps feasting on fresh seafood. The beautiful surrounding countryside is best explored on a bicycle, which you can rent with help from the hotel reception.
Accommodation
Hotel (1 night)
Meals Included
There are no meals included on this day.
Day 2: Negombo - Wilpattu National Park - Anuradhapura
In the morning, weave through stalls piled with shark, squid, barracuda and all types of sea creatures as the sellers call out their wares in Negombo fish market. Continue on to a coconut plantation to learn how all parts of the tree play an important part in daily life and sip the refreshing water of a king coconut. Travel north by private vehicle(approximately 5 hours) to Anuradhapura, stopping at Wilpattu National Park en route. This fine National Park is filled with unique water basins and lakes and is known for the leopards, elephants and sloth bears that call it home.
Accommodation
Hotel (1 night)
Included Activities
Negombo - Fish market
Negombo - Coconut plantation visit
Wilpattu - National Park
Meals Included
Breakfast
Day 3: Anuradhapura
The grand ruins of Anuradhapura point to its status as Sri Lanka's ruling city for almost one and a half millennia. Take a guided cycling tour of the large number of archaeological sites – the stupas, citadel and monasteries – and stop by the Bodhi Tree Temple, the second-most sacred site in SriLanka.
Accommodation
Hotel (1 night)
Included Activities
Anuradhapura - Ancient site
Anuradhapura - Bike tour
Anuradhapura - Bodhi Tree Temple
Meals Included
Breakfast
Special Information
If you don't feel like cycling, there's the option to have a wander around the ruins on foot or hire a rickshaw to follow the group.
Day 4: Jaffna
Transfer in the morning to catch the train north (approximately 4 hours) to the coastal Tamil town of Jaffna, inaccessible for years due to the civil war. Journey around the Jaffna Peninsula, taking in Point Pedro (Sri Lanka's northernmost point), the healing waters of Keerimalai Spring, the ruined dagobas of Kantarodai, and Nilawari, a bottomless well where it's said that the Hindu God, Rama, shot an arrow to get water.
Accommodation
Hotel (1 night)
Meals Included
Breakfast
Day 5: Jaffna
Today we have plenty of time to explore Jaffna. Visit Nagadipa Temple on Nainativu Island, the only major Buddhist site in the north of the country (where Buddha himself is said to have visited to settle a dispute between two local kings) and accessible by local ferry. Just by the jetty is also the Naga Pooshani Amman Kovil, a colourful Hindu Temple dedicated to Meenakshi. Back in Jaffna, tour the city including the beautiful library that has been lovingly restored after being detroyed in the war, and the Nallur Kandaswamy Kovil, an important local Hindu site. In the evening, spend time with a local family and learn to cook traditional Jaffna cuisine.
Accommodation
Hotel (1 night)
Included Activities
Jaffna - Cooking class & family visit
Meals Included
Breakfast
Dinner
Day 6: Trincomalee
Leave Jaffna today and transfer to Trincomalee by public bus (approximately 4 hours). Discover the beach vibes of "Trinco", relax in the shade of a palm tree and try 'toddy' straight from its flowers. Trincomalee was one of the world's finest deep-water harbours, attracting famous sailors like Marco Polo to its shores. There are no activities planned today, so there's plenty of time to relax around the pool or beach.
Accommodation
Hotel (1 night)
Meals Included
There are no meals included on this day.
Day 7: Trincomalee
Take the free day to enjoy a range of optional activities like snorkelling at Pigeon Island, or climb aboard a boat for some whale and dolphin watching in the bay. Don't feel like doing anything? Then simply sit back, relax and enjoy the peaceful beach lifestyle.
Accommodation
Hotel (1 night)
Meals Included
Breakfast
Day 8: Dambulla - Habarana
Drive from Trincomalee towards Habarana (approximately 2 hours), a small but scenic village that serves as a base to exploring the colourful Anuradhapura district of Sri Lanka. Visit the Dambulla Cave Temple. This wondrous UNESCO Heritage-listed site is the largest and best preserved cave temple complex in Sri Lanka, many of which are full of colourful, large statues and paintings related to Gautama Buddha and his life. After returning to Habarana, there's the option of going elephant, sambar deer and leopard watching on a safari in the evergreen scrublands of Minneriya National Park.
Accommodation
Hotel (1 night)
Included Activities
Dambulla - Cave Temples
Meals Included
Breakfast
Day 9: Sigiriya - Kandy
Leave Dambulla and head onwards to Kandy (approximately 3 hours), the last capital of Sri Lanka's ancient kings era. En route, visit Sigiriya's Lion Rock, an ancient carved-rock fortress that rises dramatically above the surrounding plains. As you continue on, a stop in at a spice garden might yield scents of cinnamon, pepper, cardamom, clove, nutmeg, vanilla and more as you learn the secrets of cultivating these palate pleasers. After arriving in Kandy, visit a Kandayan dance show to experience the colourful traditional costumes and evocative performances live in action.
Accommodation
Hotel (1 night)
Included Activities
Kandy - Cultural performance
Sigiriya - Lion Rock
Meals Included
Breakfast
Day 10: Kandy
Start the day off in Kandy with a visit to the Giragama Tea Factory for an insight into local production techniques, then head to the Temple of the Sacred Tooth Relic. This golden roofed temple is home to Sri Lanka's most important Buddhist relic – a tooth of the Buddha. Afterwards, enjoy the rest of the day with free exploration of the city. Perhaps take a walk around the beautiful lake in the centre of town, explore the local Buddhist temple or while away the afternoon amongst the trees and flowers of the Royal Palace Park.
Accommodation
Hotel (1 night)
Included Activities
Kandy - Temple of the Tooth
Meals Included
Breakfast
Day 11: Colombo
Drive onwards to Colombo. After arriving in the city, set off for a guided walk past some of the city's iconic sites. Visit the bustling Petta Bazaar, Independence Square, Parliament and the National Museum before finishing up with a shopping opportunity at the Barefoot fair trade store. Perhaps pick up a few final souvenirs while here, keeping in mind that all proceeds go towards helping the country's small cottage industries. Celebrate the end of this Sri Lanka adventure with an optional final night group dinner.
Meals Included
Breakfast
Day 12: Colombo
There are no activities planned for day 12 and you are able to depart the hotel at any time. Check out time from the hotel is 12 noon. If you are departing later, you can arrange luggage storage at the hotel. Additional accommodation is available through your booking agent at the time of booking your trip.
Optional Activities
Colombo - Colombo by Tuk Tuk Urban Adventure - USD55
Colombo - Eat, Eat, Repeat Urban Adventure - USD55
Meals Included
Breakfast
Offer Includes
11 nights accommodation as per the itinerary
Tours, excursions & activities as per itinerary
Meal Plans