Dara Samui Beach Resort & Spa
Dara Samui Beach Resort & Spa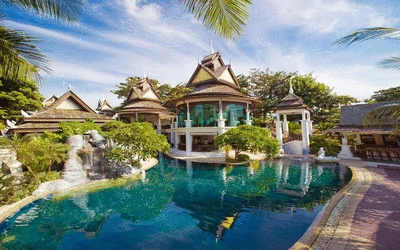 C$619
01 Nov 19
23 Dec 19
30 Nov 19
Bonus Offer: 2 Free Nights
Dara Samui Beach Resort was envisioned by the owners to be a congenial place totally different in atmosphere and feel then any other resort in Koh Samui.
The influence of Thai culture was equally important, as we wanted to create a resort that reflects the culture and architecture of Thailand. After lengthy research the overall theme of Dara Samui was selected. Lanna style, inherent to the north of Thailand the ancient culture of Lanna and its distinctive architectural style, were created by a young talented designer who was capable of drawing the dreams and aspirations of the owners to paper.
The result is a spectacular design feast, with authentic details such as real gold leaf layer pictures on doors and wall murals. The color scheme of Dara Samui is in traditional Thai with sumptuous purples, gold, red and earth tones throughout the entire resort. Painstaking attentional of datails were given to virtually all aspects of design from big items to even minute items. The Gardens reflect native plants with artifacts of Lanna culture. The result of all of this is a resort that uniquely represent the best of ancient Siam with all modern conveniences integrated to a harmonious on.
Our vision and Mission, which is striving to delight always and having a passion to serve, are not just slogans at Dara Samui but the true convication of all of our associates.
Dara means star, we invite you to join the lastest star in Thai Hospitality and experience a truly unforgettable holiday with us. Dara Samui was built in 2005 and 2006 and had it soft opening with partial facilities in August of 2007. As of December 2007 Darasamui was totally completed and opened its doors with all facilities and services ready to please our guests
Hotel facilities:
Beach bar, Outdoor pool, Coffee shop or café, Poolside bar, Restaurants - 2, Children's pool
General facilities:
Free WiFi
Offer Includes
7 nights accommodation in a Superior Room
Return transfers by a private car
Meal Plans