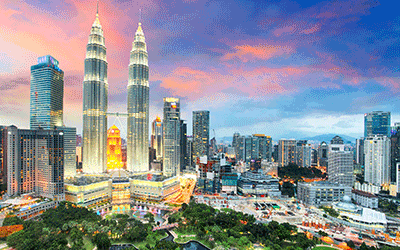 C$4159
01 Apr 19
30 Nov 19
31 Jul 19

Highlights: Kuala Lumpur - Malacca - Cameron Highlands - Penang
During this seven-day trip of Malaysia, you will be introduced to the interesting history, culture, nature and modern amenities that Malaysia has to offer. From big cities to the countryside and ending in a tropical setting, explore the treasures of Kuala Lumpur, Melaka, Cameron Highlands and Penang Island.
Itinerary:
Day 1: Kuala Lumpur - Malacca
Morning departure from Malacca and check in at the hotel of your choice by lunch time (lunch not included). The orientation tour of Melaka begins at 14:00hrs. A tour of historical Melaka on the south-west coast of the Indian Ocean. The city was founded by the Portuguese and later settled by the Dutch and English. Visit St. John's Port for a panoramic view of Melaka.
See Bandar Hilir, the oldest area of the city, climb St. Paul's Hill where St. Francis Xavier was interned, and then see the well-known Fort De Santiago. After lunch, visit Antique Row, locally called Jonker Street. Complete this tour with stops at Cheng Hoon Teng Temple, Tranquerah Mosque, St. Peter's Church and Bukit Cina, an ancient Chinese burial site. Evening
free at leisure. Guests can ask the driver/guide (who will be with guests throughout the tour) to take them for dinner in a local restaurant in the evening. Suggested places to dine are the Portuguese Square, which is a culmination of Portuguese culture in its full splendour and colours, the Peranakan Restaurant, Manis Sayang or Ole Sayang) if you would like to try
some local cuisine (all three choices here are of the Baba Nyonya heritage). These eateries are full of the culture of the Straits Chinese who have adopted much of the Malay culture into theirs. Their cooking, the renowned Baba Nyonya style, derives from Melaka. Dinner is on own account.
Overnight in Malacca
Day 2: Malacca - Kuala Lumpur
In the morning, enjoy a river cruise of the Melaka River from Parameswara Jetty followed by a beca (trishaw) ride to Villa Sentosa and back to Equatorial Melaka / Majestic Melaka. Villa Sentosa is a house built during the first quarter of the century in the style fashionable during that era, and has been converted by its owner into a private museum. Located in Kampong Morten in the heart of Melaka city, the house has a history that goes back to the British Land Reform Act 1920.
Visitors can view intriguing collections of costumes, Malay embroidery, furniture, muskets and an array of interesting relics. As for a curator, the owner would be glad to play the role and he is more than happy to answer any questions you may have. After the tour, transfer to Kuala Lumpur.
Overnight in Kuala Lumpur on a Bed & Breakfast Basis.
Day 3: Kuala Lumpur - Cameron Highlands
At 9:00 hrs, pick up from your hotel and proceed on your trip to Cameron Highlands. En route, visit Gua Tempurung, a spectacular cave and former hideout of the communist guerrillas. Gua Tempurung is an impressive cave with beautiful speleothems like stalagmites, stalactites, rim stone pools, curtains, straws, calcite crystals and pillars. There are also majestic columns of marble inside its huge cavern honeycombed with smaller caves of different dimensions. The cave holds mystery and intrigue that leave one curious about its deep, dark secrets dating back to 400 million years ago. Stop for lunch
(not included) at a local restaurant in Tapah. Continue on your journey to Cameron Highlands, which is 1,542m above sea level and famous for its world-renowned tea. Stop at Iskandar waterfalls for a photo stop. Meet aborigines at their homes and maybe witness a blow pipe demonstration. Check in at your hotel and evening at leisure. For dinner (on own account), you may choose to eat in your hotel or you may prefer to ask the driver to take you to check out the many types of cuisine that can be found in Cameron Highlands. Choices range from local to Western to Southern Indian to Chinese and many more. Chinese restaurants are favoured by locals for steamboat, a novel 'do-it-yourself' style of cooking the food in a boiling pot of hot soup, perfect for a cool evening!
Overnight in Cameron Highlands on a Bed & Breakfast Basis.
Day 4: Cameron Highlands
After breakfast, your driver-guide will take you on a tour of Cameron Highlands covering the Rose Garden, tea plantation and vegetable farms. Cameron Highlands is the smallest district in the state of Pahang, which is located in the north-western corner of the state. One of the wonders of Malaysia, it is the largest and most famous hill resort in the country. This highland paradise still retains much of the charm of an English village. Being a primarily agricultural domain, you will find an abundance of vegetables and fruit farms here. Cameron Highlands is also the leading producer of flowers and tea in Malaysia. Be prepared for a lovely sight of extraordinary flowers you won't see flourishing anywhere else in Malaysia!
Located on the Titiwangsa Range at about 1,500m above sea level, the temperature here can drop to 16˚C or lower at certain times. Please note that the tea plantation is closed on Mondays. The rest of the day is free to just relax and enjoy the cool fresh air.
Overnight in Cameron Highlands on a Bed & Breakfast Basis.
Day 5: Cameron Highlands - Penang
Enjoy a hearty breakfast at the hotel and at 10:00hrs, check out and descend via Simpang Pulai to Kuala Kangsar district and the royal town of Perak. Next visit the Ubudiah Mosque, probably the finest mosque in Malaysia, Istana Iskandariah and Istana Kenangan which was built in 1926 without the use of nails. Stop for lunch at a local restaurant on your own account. Whilst journeying towards Penang, we will cross the Penang Bridge, which spans 13.5km, before arriving in your hotel for check-in.
Overnight in Penang on a Bed & Breakfast Basis.
Day 6: Penang
Penang's UNESCO World Heritage Site in Georgetown is not simply the colonial era structures that make up the area. It is also the confluence of people that go about their daily life in this town. Tucked in among the crowds are ageing tradesmen practicing their craft, just as it's been done for generations. There is something precious and endearing about handmade products that machines can never replace, the little imperfections that make it unique. This painstaking process of production elevates handmade products into a dying form of art. Visit a wet market to meet a local legend who has been making hand-made popiah (spring roll) skin for decades and be amazed by his skills as he paces back and forth in a rhythmic motion between two hotplates with a wheat-flour dough "glove" on his right hand. He whips the elastic dough ball like a yo-yo, slams it down on a hotplate and yanks it off, leaving a very thin pancake. Once the thin layer is cooked, his helper will scrape off the popiah skin.
From the wet market, hop on to your vehicle to your next stop. Embark on a walking tour to see age-old artisans laboring at their craft, offering rare glimpses into the trades that have endured the test of time . Visit the shops of the artisan making 'songkok' (Muslim headgear), joss sticks maker who specializes in joss sticks for special religious festivals, such as the three-foot high variety that burn for four days and those decorated with specially carved dragon, Indian flower garland maker who make pretty garlands as offering to Gods, the Nyonya beaded shoes maker painstakingly making intricate Nyonya beaded shoes, the signboard engraver who make his mark on wooden signboards while the Indian goldsmith dazzles with his skills and creativity.
Overnight in Penang on a Bed & Breakfast Basis.
Day 7: Penang
Savour one last breakfast in the resort before being transferred to the airport for your onward flight.
Offer Includes
Flights from Toronto with British Airways
Airport taxes
6 nights accommodation as per the itinerary
Operated with English speaking guide
One night on a Bed & Breakfast basis at the Swiss Garden Hotel Malacca
One night on a Bed & Breakfast basis at the Furama Hotel Kuala Lumpur
Two nights on a Bed & Breakfast Basis at the Strawberry Park Resort in Cameron Highlands
Two nights on a Bed & Breakfast Basis at the four-star Flamingo By The Beach in Penang
Air conditioned transportation, transfers as stated in the programme