South - Coromandel to Malabar
South - Coromandel to Malabar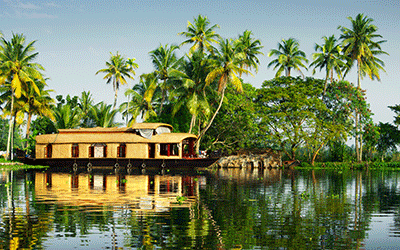 C$4485
01 Oct 19
09 Dec 19
31 Aug 19

Highlights : Chennai - Mahabalipuram - Thanjavur - Tiruchirappalli - Madurai -  Periyar - Kumarakom - Houseboat - Cochin
This tour combines, the finest of Tamil Nadu with that of Kerala. Tamil Nadu once known as the Coromandal Coast boasts of the most remarkable temple architecture in India. The former French territory of Pondicherry has its own distinctive colonial architecture. Kerala on the other hand has a distinctive charm, attractive palm-lined beaches, relaxing backwaters, colourful Kathakali dancers, hills and tropical wildlife.
Hotel featured or similar:
Chennai - Grand Chennai by GRT Hotels or similar 4*
Mahabalipuram - Radisson Blu Resort Temple Bay or similar 4*
Pondicherry - Le Pondy or similar 4*
Thanjavur - Sangam Hotel or similar 3*
Madurai - Heritage Madurai or similar 4*
Periyar Cardamom County Hotel or similar 4*
Kumarakom - Lakesong Resort or similar 4*
Backwater Houseboat
Cochin - Radisson Blu 4*
Itinerary:
Day 1: Chennai. On arrival at Chennai you will be met and transferred to your hotel for an overnight stay.
Day 2: Chennai to Covelong via Kanchipuram. Drive to Kanchipuram, one of Hinduism's seven most sacred cities. The 'Golden City' of a thousand temples dates back from the Cholas era. Visit its temples and shops – renowned for silk and cotton fabrics. Travel onwards to Covelong Beach and spend the afternoon at leisure. Overnight in Covelong.
Day 3: Covelong (Mahabalipuram). This morning enjoy an excursion to Mahabalipuram. The coastal temple town boasts fourteen cave temples and nine monolithic rathas (chariot shaped shrines), three stone temples and four-sculptured rock panels. Enjoy the afternoon at leisure. Overnight
in Covelong.
Day 4: Covelong to Thanjavur via Pondicherry. Drive to Thanjavur (Tanjore) en route visiting the Sri Aurobindo Ashram at Pondicherry - the former capital of French India. Also visit Matru Mandir at the experimental 'universal township' of Auroville. Arrive at Thanjavur the ancient capital of
the Cholas dynasty and home to thousands of artists who developed the art of Tanjore style of paintings and bronze icons. Overnight in Thanjavur.
Day 5: Thanjavur to Tiruchirappalli. During the morning visit Thanjavur's Brihadisvara temple which is a World Heritage site. In the afternoon drive to Tiruchirappalli (Trichy) and visit the temple town of Srirangam and Rock Fort, which stands on a mammoth 84 m high rock. Overnight in Trichy.
Day 6: Tiruchirappalli to Madurai. Your tour continues to Madurai. On arrival enjoy a tour of one of the most sacred pilgrim towns of South India. In the evening witness the prayer ceremony at Meenakshi Temple, an outstanding example of the Vijayanagar temple architecture. Overnight
in Madurai.
Day 7: Madurai to Thekkady (Lake Periyar). Drive to Thekkady for a 2 night stay. During the afternoon take a two-hour boat ride on the mist- shrouded lake, which offers excellent opportunities for spotting wildlife, especially herds of elephants. Overnight in Periyar.
Day 8: Periyar. Spend the day at leisure exploring the plantations surrounding this beautiful spice centre. Overnight in Periyar.
Day 9: Periyar to Kumarakom. An early start driving back down to the coast and the melodically named town of Kumarakom on the banks of Lake Vembanad. On arrival, take a boat transfer to your hotel for a 2 night stay. This evening take a sunset cruise on the lake in a converted rice
boat accompanied by the sounds of ambient flute music. Overnight in Kumarakom.
Day 10: Kumarakom. Enjoy a day at leisure in Kumarakom. Relax by the pool or take a short boat ride to the bird sanctuary on the other side of a river entrance. Overnight in Kumarakom.
Day 11: Kumarakom to Houseboat. Transfer to your houseboat for a one night stay on the backwaters – experience the essence of Kerala with its swaying palms and gently flowing serene backwaters. Enjoy close up views of the countryside and quiet lagoons of rural Kerala, preserved through the ages and completely hidden from local roads.
Day 12: Houseboat to Kochi. After arrival at your destination you will disembark and continue on to the harbour town of Kochi (Cochin), renowned as the 'Queen of the Arabian Sea'. In the evening enjoy a Kathakali dance show – where mask wearing dancers mime out stories
to music and sings.
Day 13: Kochi. Your morning sightseeing tour of Kochi includes a visit to the Dutch Palace and Synagogue, with a visit to the renowned Chinese fishing nets. Enjoy an afternoon at leisure or explore the sights of this old trading centre. Overnight in Kochi.
Day 14: Depart Kochi. Transfer to Kochi airport for your onward flight.
Offer Includes
Flights from Toronto with British Airways
Airport taxes
12 nights accommodation on Bed & Breakfast
1 night accommodation on full board at Houseboat
All transfers, sightseeing & excursion as mentioned in itinerary by air-conditioned car
Services of local English speaking guide as per the itinerary during city tour
Entrance fees to the monuments as per the itinerary
Boat ride at Lake Periyar
Kathakali dance show in Cochin
Meal Plans